11o Hopkins St, Footscray
Phone: 9689 1888
This one's for the Nagoya Ramen Ninja. He complained that my posts of late have been too far flung, and I'm not doing my duty as a Footscravian food blogger. So it's time I did a little more representing for the 'hood. Hopefully in return, he'll share his Nagoya Ramen tips with the interwebs again?
Vivid Star is one of the newer Vietnamese restaurants on the Hopkins St strip. It strikes a balance between the modern slicker stylings of Hung Vuong and Sapa Hills – that always tend to make me wary, seeming to pander for the Anglo market – and the beyond-help tacky-yet-charming style of classic Vietnamese eateries, with their pastel walls, ample use of mirrors, plastic condiment baskets and drapery-upholstered chairs.
The irony of the situation is that more often than not, the daggier the restaurant, the better the food. As evidenced recently when I tried two versions of cha ca locally.
In fact, I ended up at Vivid Star because Dong Que was closed on a Monday night, which was a sad discovery, because @tammois and I had a banh xeo craving. @jeroxie and her Mister came along as well, for what was a lively and fun-filled evening eating great food and talking about food. @tammois is writing her PhD about food and culture in Melbourne, you see.
I had also been meant to go to Vivid Star late last year with some neighbours for a x-mas get-together, but didn't quite make it in the end. Having heard great things from Lauren, I was glad to finally have a chance to try it out. Even if it meant navigating their diagrammatic menu!
We started off with some fried silken tofu, and soft shelled crab.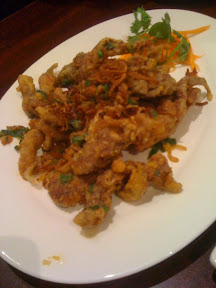 The tofu was delicate and soft, with the crispy exterior providing just enough of a shell to enable us to pick it up, and the pork floss on top was, as @tammois declared, "genius!" The soft-shelled crab was also good – still juicy inside, though the coating was a touch on the salty side. Still, it's soft-shelled crab, so I'm generally pretty forgiving.
We also ordered some rice paper rolls with pork and prawn.

These were fresh and springy, though there was too much rice vermicelli and not enough lettuce in them for my liking.Also, I like it when restaurants put in some perilla, basil, mint and/or chives in their rice paper rolls. Were it not for the peanut/hoi sin dipping sauce, these rolls would have been quite bland.
I had been tasked with ordering for the table, which tends to happen when friends come to Vietnamese restaurants with me. I find this a little strange, as I don't think having knowledge about a particular type of cuisine necessarily equates to knowing what to order at a particular restaurant, and often this happens at places I haven't eaten at before.
In this situation, I always try to order a combination of dishes to create a balance of flavours and ingredients. I think it's a pretty common Asian thing – Thai and Vietnamese people often talk about balancing flavours of salty, sweet, spicy and sour in dishes, whereas I think it happens on more of a combination of dishes level in Chinese custom, rather than an individual dish level.
Anyway, I always try to get a range of different proteins, a good amount of vegetables, usually something sweet or sour, and at least one dish with a decent chilli kick. However, often this becomes difficult if there's not so many people in the group. This night was one example of me composing a well-rounded selection of dishes, which lead to there being too much food. I'm a little ashamed to say that this happens a lot.
The first dish to arrive was the pork spare ribs with fish sauce. This dish was nothing like what I expected.

I had expected that it would be something like a
thit kho
, pork braised (often in a claypot) in fish sauce. I was expecting little chunks of spare ribs, sort of like what you might get at yum cha. What came out instead was a dish of fried de-boned spare ribs, glazed with a fish sauce reduction. It was certainly unexpected, but
oi troi oi
(that's southern Vietnamese for OMG) was it good! The pork was juicy and tender, the batter crispy and barely there, and the fish sauce was rich and just a touch smoky.
Next up was the fried flounder, with salt and pepper. A standard on the Chinese-Vietnamese menu, this
is always one of my favourites to share. Simple flavours of salf, pepper, five spice, chilli and garlic, that work well with just about any seafood. The fish was a bit on the over-cooked side, sadly, but it was still pretty enjoyable.

Being in a Vietnamese restaurant, there was hardly any choice involved in ordering the
rau muong
(water spinach, or
kang kung
) which I will always consider Viet Nam's national vegetable. In Viet Nam, it's the equivalent to
choy sum
– ubiquitous, cheap, and versatile. It also happens to be one of my favourite vegetables.
Here, we just had it stir-fried with garlic. This was the 'bland' dish of the bunch. I don't say that in a bad way. The thing is, when you're ordering a selection of dishes, you should order at least one dish which is bland, or more subtle, I think. It's kind of like giving you taste buds a break to catch their breath when trying to run a marathon. Sometimes you can ignore this principle, but I'll guarantee you that you'll eat a lot more rice. And then there are other times, when you opt for something other than steamed rice.
I went for the chicken and salted fish fried rice, because I've had a slight fascination with it lately. Vivid Star's version is pretty great, too!

I really should have stopped there, but of course, it didn't seem balanced, so I though I'd order a beef dish. I went for the
bo luc lac
, because to my surprise, @tammois hadn't tried it before.
The bo luc lac at Vivid Star is pretty good – not as amazingly steak-y as one I'd had years ago at Thien An, or as my father makes, but pretty good nonetheless.
I think Vivid Star is likely to be one of my regular fall-back local options. The quality of the food and the service is great, but there didn't seem to be anything amazingly special on the menu that sets them apart from other places along Hopkins St. Oh, except that you can bring your own seafood (perhaps from the live fishmonger store around the corner in Leeds St?) and they will cook if for you in any style you want, for a nominal fee of $15.