Main branch: shop 1-2, G/f, Chinaweal Centre, 414-424 Jaffe Rd., Wan Chai, Hong Kong
Phone: +852 2834 6268
http://www.underspicycrab.com/
You can't really go to Hong Kong and not eat crab at some stage. Crab is one of those staple banquet dishes that turns up at almost every dinner I go to with extended family. Usually, we opt for it stir-fried with ginger and spring onion, on top of a bed of egg noodles. The egg noodle's actually where it's at, for me. The sauce soaks up the flavour of the crab, and soaks through the noodles. While I like crab, it's often a lot of work, unless you're lucky enough to get one of the meaty claws. And since I have best quality heart, I take worst quality crab.
Anyway, I was staying in the Wanch, a convenient part of town, not only because it's near the sleazy hooker bars, but because it's the Under Bridge Spicy Crab heartland. Near the corner of Canal and Lockhart Roads is a ghetto of seafood restaurants, specialising in 'Spicy Crab'. The original is on the corner of Canal and Jaffe, but it's hard to tell, because there are three or four other 'outlets' owned by the same chef, all proclaiming to be the original, and all on the same block. I think the name 'Under Bridge' refers to Canal Road, which is an overpass cutting across Lockhart and Jaffe Roads.
Before heading out for a night on the town (read boozing it up in Lan Kwai Fong), @eatnik and I met up with the @eatdrinkstagger kids for some crabby action. As I was staying around the corner, I'd stopped in earlier in the day to book a table, and lucky I did, because the place was pretty busy, with people waiting for tables as we arrived. Despite booking, we still had to wait about five minutes, which we spent perched on stools out the front, perusing the menu. I'm fairly sure the branch of Under Bridge Spicy Crab we went to was the original, but it's hard to say for sure!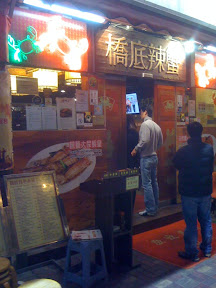 We started off the evening with some beers. SOME ONE LITRE BEERS. Oh yeah.
First up were some stir-fried pippies in a sweet, salty, spicy cause. I don't think it was XO, but I could be wrong. Whatever sauce it was, it was a perfect way to start the meal, as the beer had arrived, but not the rice. The only problem was that in the stir-frying process, a lot of the pippies had escaped their shells, so often you'd pick up a shell to find yourself just sucking the sauce off of it. That did mean there was a fair amount of pippie flesh floating around under the shell debris, so it just required some eagle-eyed hunting!
We also ordered the pigeon, which appeared to be lightly dusted with the obligatory five spice and then fried. I wasn't much of a fan of this dish – it was pretty dry, and pigeon doesn't have the gamey taste quail has, which I love.
Seeing as this was turning into something of a meatfest, we ordered the snow pea shoots, stir-fried with garlic. A pretty standard Cantonese vegetable dish, and one of my favourite. The shoots here were a bit more mature than I'm used to back in Melbourne. This made it seem more of a substantial vegetable, but on the down side, the snow pea flavour was less fresh and intense. Still, it was a good counterbalance to the saltiness of all the other dishes.
Everyone at the table was a fully qualified tofu fan, so it seemed prudent to order some tofu. Deep fried, with salt and pepper – and GARLIC CHIPS – these were a delight. They weren't as airy and 'puffy' as most fried tofu I'd had before, instead actually maintaining a smooth texture inside. The seasoning made these very more-ish, and we polished off the lot.
Then came the main event: the 'Typhoon Shelter' style spicy crab. As you can see, the deep fried crab is COVERED with a blanket of fried diced garlic, and depending on your order, a varying amount of chilli. We ordered it medium, but we probably should have gone for hot. This is how it arrives at the table.
If you make enough of a nuisance of yourself by taking photos – especially if ALL FOUR OF YOU are taking photos, with varying degrees of photographic technology in hand – you'll probably attract one of the more friendly waiters' attention. And he'll jovially offer to re-style the dish so that it's more visually appealing. At least, that's what this fellow did for us!
It was a little embarrassing, but also extremely amusing. And hey, we all think he did a pretty good job! What do you think?
I quite liked the signature spicy crab, though I think the deep frying actually dried out the meat a bit too much. But the fried garlic and chilli topping is addictive. Five minutes in, and we were all spooning the stuff on our rice. Luckily, we were all just hanging out for drinks together later, so we'd all have horrendous breath together. I feel a bit sorry for
@alexobov
with whom we met up with later.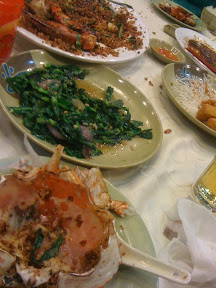 If you want to know more about Under Bridge Spicy Crab, there's a really good article on
CNNGo
.