2/F, Tai Po Hui Market, Tai Po Complex, 8 Heung Sze Wui Street, Tai Po, New Territories, Hong Kong
http://www.gov.hk/mobile/en/wifi/location/address_tphmcfc.htm
After a few days of intense urban eating and fast city shopping, team #fatty was hitting the wall. I know, hard to believe, right? But it's true. We've a way to go before we can truly call ourselves semi-professional eaters. So for a change of pace, @eatnik suggested we head out to the New Territories. Or the boondocks, for those who aren't suburbially inclined. It took about half an hour to reach on the train, but it felt a world away from the looming skyscrapers of Hong Kong proper. You could see blue skies in more than slivers, and there was a landscape rather than a skyline! There are freaking hills out there!
Okay, okay, so that wasn't actually what we were after. We were looking for, as @eatnik rightly dubbed it, "The Food Court of Awesome". But the respite from the frenetic buzz of the metropolis was a nice added bonus.
We wandered through a couple of floors of wet market; seriously, they're everywhere in Asia, and they're so cool (go population density!). On the top floor, there is what is referred to as a cooked food centre, though we'd refer to it in Australia as an overgrown food court, and in Singapore, they're known as hawker centres. Same same, but different.

After doing a lap of the centre, noting the peculiar-yet-familiar grouping of all female and all male tables of high school students, and being wooed by various stall owners, we decided to start off with some yum cha style dumplings.The first to arrive were the classic
har gao (prawn dumplings)
and
siu mai
.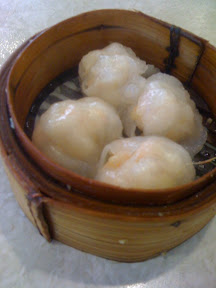 The skin on the
har gao
were a little claggy, and the filling was over-seasoned – with MSG, I believe – so not the best of starts for the Food Court of Awesome. In the FCA's defence, we were supposed to be looking for fish ball noodles, as that's what the place is known for, but we got distracted.
Then there were the siu mai. As you might have started to gather, everything this joint served up was on the rustic, or crude, side. The dumplings lacked the finesse of their big city counterparts, but there was a certain yokel-ish charm to it all. That charm included what we surmised was a near equal proportion of pork meat and pork fat in these dumplings. Flavoursome, but also a little overwhelming.
Doing things differently, however, also leads to sparks of creativity, such as in these quail egg dumplings.

The quail egg was perched on a lump of minced pork – which unfortunately tasted like Chien Wah dim sim meat – with a delicate translucent wonton skin-like wrapper. A great idea, just executed a little, well, crudely.
I should mention at this point that the total cost of these dumplings was somewhere in the vicinity of $6 AUD. Which is why we didn't really think it was so bad. Especially since we spent the same amount on a single dish from the vendor next door – whom, incidentally, I believe was just a reseller for this next dish – which made the half-hour train trip, and the mediocre dumplings, worth enduring. Redemption for Tai Po came in the form of eggs.
I give you fried century eggs.

That's right, FRIED. CENTURY. EGGS. Coated in a thin layer of prawn mince then crumbed and deep fried, and served with a sweet, mild
nam jim
– it was from a Thai food stall – these things are intoxicatingly good. The heady richness of the century egg, with the slight tang of the runny black yolk, is tempered by the salty prawn meat and lifted by the texture of the crunchy coating, in the way only deep frying bread crumbs can.
There were other adventures to be had in Tai Po, involving geese, egg tarts and little old ladies, but those are tales for another time.