2 Sharp St. East, Causeway Bay, Hong Kong
Phone: +852 25776558
We almost didn't make it here. I hate those streets which have East and West, or North and South sections. Because I invariably end up on the wrong section. Thankfully, Sharp St (both sections combined) is quite short, so after the confusion of ending up walking through another wet market – never a bad thing in Hong Kong, really – and crossing under a major arterial twice, team #fatty finally found the congee we were looking for.
To be honest, I didn't know what to expect, because @eatnik had found this place in the Michelin guide. Not hatted, but listed with a Bib Gourmand, Ho Hung Kee is known for its congee and its wonton noodles. Perfect for breakfast!

When I think of perfect congee, it's not that classic stalwart pork and century egg, but rather it's congee with sliced fish. Simple, restorative, and unparalleled in the purity of flavour, fish congee is one of those comfort foods which evokes for me memories of my mother's loving care. So it was almost a given that this would be what I ordered.
And congee is always made better with the addition of
yao zha gwai
(fried bread, or Chinese donut, aka
you tiao
). The only thing better than carb-on-carb is when one of those carbs is fried. This congee lived up to the hype. It was silky, and smooth, without being at all watery. It sticks to your lips in the same way that a good tonkotsu broth, or runny egg yolk does. One of life's great simple sensations. The flavour was also great, a good balance between the umami of stock – or MSG, who knows, and who cares? – and the natural flavour of the rice.
@eatnik took one for the team, and ordered the wonton noodles. We did share a bit, but I'm ashamed to admit I certainly was hogging the congee. When the noodles arrived, they weren't very impressive.

I mean the noodles looked good – and they were – but wherefore art thine wontons? A little digging brought them to the surface, however…
I'm not sure if we ordered the wrong thing here. These wontons weren't very inspiring. Small, and a little too solid, not a shade on those at
Sam Tor
. Perhaps we should have opted for the
sui gao
, another soup dumpling which tends to be larger, and includes a few more ingredients in the filling.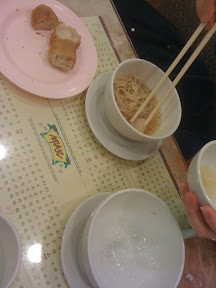 So if you're in the area, and after some congee, definitely head down, but I daresay there are better noodle joints in Causeway Bay. Oh, and if you're at all prone to getting lost, here's a handy
map
.