159 Spring Street, Melbourne CBD
Phone: 9654 6657
In case you haven't noticed, I tend to eat mostly Asian food, whether it be Chinese, Malaysian, Vietnamese or Japanese. I think it has something to do with the sorts of flavours that I crave, and let's be honest, the price is something of a factor, as well. It still confuses me sometimes how a Chinese restaurant can serve up a whole roast duck for less than you would pay for a single duck breast in a French restaurant. Still, it's probably something to do with sourcing quality produce and paying staff higher wages, and so on. Let's not get into the politics of it all just now.
The other thing I like about most Asian restaurants, is there's a casual feel, and I feel comfortable eating in my jeans and t-shirt; let's face it, I rarely wear anything more formal. For this reason, there's a lot of restaurants in Melbourne which I haven't visited. In a sense, I'm a little intimidated, but also a little put off, by their formality. Which is why I was pleasantly surprised by City Wine Shop. Here's a place that does casual dining right, in my opinion. Even places like Cumulus Inc., Andrew McConnell's erstwhile 'casual dining proposition', felt like it had too much of an attitude for my liking. Not so, the City Wine Shop.
It helps that it actually is a wine shop. A wall of wines – which you can also enjoy when dining in, for a $15 surcharge – with a pretty formidable selection. Maybe the prices on the wall remind me of those specials, printed on fluorescent A4 sheets of paper, in Chinese characters that look like Times New Roman, blu-tacked to the walls of so many Chinese restaurants. Similarly, the lack of a formal printed menu (beyond the drinks list and bar snacks) sets me at ease, with the menu board on the wall, like a pub, or indeed a pho joint. The decor is at once classic, and relaxed. Lots of dark wood panelling, but also cartons of mineral water stacked along the wall in plain sight. And the service was friendly, knowledgeable and attentive, both times I've been.
Anyway, let's talk about the food. My first visit there was after seeing Black Swan – which, by the way, you should totally go and see if you haven't seen it already – so it was something of a late dinner. That being said, we were all starving. Except @ribenaberry, who had snagged some sushi before the movie.
I ordered the seared tuna Nicoise. I was expecting something of a salad, which in a sense is what I got, only deconstructed.

This was probably the best piece of cooked tuna I have eaten in a long, long time. Sashimi is a whole other ball game, but I think the fact that the tuna had been so lightly seared was a big factor in my love for it.
Everything else on this plate was close to perfection, too. The soft-boiled egg, topped with two white anchovies, perfectly cooked beans, and the potatoes – THE POTATOES! So crisp and salty on the outside, and fluffy on the inside. If you can't tell, I
love
this dish. Get thee to the City Wine Shop and try it, before it's off the menu, as the menu changes from time to time.
@eatnik couldn't go past the black pudding salad on the menu, and rightly so.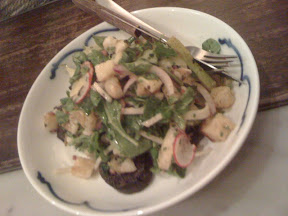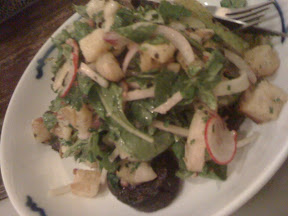 I had a little sample of the black pudding, and it was moist and rich, not too salty, yet quite intense in flavour. It was well balanced with a whole host of other salad ingredients, which @eatnik diligently identified and noted for future reference. I'm hoping I get an invite when she gets around to recreating this salad. Sadly, this salad is no longer on the menu.
Despite not being that hungry, @ribenaberry ordered the gnocchi, which had been pan-fried with some sort of wild mushrooms, I believe. I had a bite; the gnocchi was pillowy and soft, and the mushrooms were quite strong with umami. The lettuce on top was a good idea to lighten what would otherwise have been quite a rich dish, I think.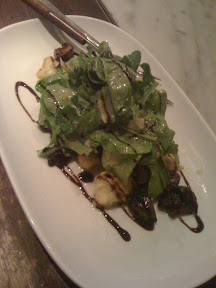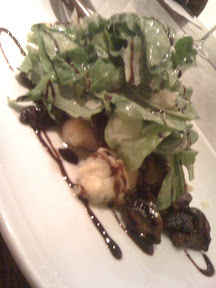 My return visit happened a couple of weeks later, when I met up with Mr J for an early dinner. Though the way things worked out, a few glasses of wine later, and it wasn't so early. We started off with some pork crackling to munch on.
Super crunchy, though also very salty, this was a great way to stimulate our appetites. The slaw which came with it was a pleasant relief from the salt.
Mr J, on my recommendation, had the tuna Nicoise, and seeing as the black pudding salad was no longer on the menu, I ordered the braised lamb shoulder with quinoa salad. There was a pork belly dish on the menu, but given I'd just scoffed down so much crackling, I thought that might be overkill.

The lamb was well cooked and tender, though a touch on the dry side. Thankfully, there's plenty of sauce, and the quinoa was also generously dressed. Again, pretty straight-forward food, which just works.
We did consider dessert for a second, but decided to opt for some dessert wines instead. Ask for the extended port and tokay list, because therein you will find PX by the glass.