City of Dreams, Macau
When you're running a little late to a show, sometimes compromises have to be made. Like eating in a casino. It's not the first time I've done it – though last time I was considerably less sober – and it probably won't be the last. I mean after all, if gamblers feel like subsidising my food with their hard earned coin, who am I to refuse?
Yo! Noodles is nestled in the City of Dreams casino, somewhere between the Hard Rock Hotel, and the Grand Hyatt. Actually, to be honest, if you asked me to find it again, I would have great difficulty. That place is like a very spacious maze. Anyway, the main draw card (I think?) of Yo! Noodles is not, in fact, the exclamation point in its name which requires you to get excited when mentioning it, but rather the fact that everything on the menu is 28MOP (that's Macanese Patacas, roughly equivalent to the HKD). That means all the dishes are around 4AUD. That's not necessarily cheap by local standards, but it's pretty cheap to me! However, all drinks are also 28MOP, which is a touch on the pricey side if you're not drinking alcohol. Luckily, we were.
So I had the seafood vermicelli salad. I think it was supposed to be Thai style. Only there was neither enough lime nor fish sauce for it to be much more than bland. It was only redeemed by the use of those sneaky-type chillies which make their presence known only halfway through eating the dish.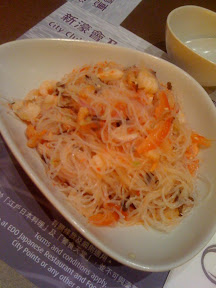 @eatnik
had the tom yum soup, which she found quite agreeable, but she didn't really elaborate when I asked her how it was, so it mustn't have been that good?
Ms A, who works in the building (not for the casino) had pretty much sampled the menu in her tenure at City of Dreams, and ordered the Hainanese chicken rice. I have to admit, that chicken did look succulent and juicy, almost enough to forgive the atomic orange chilli sauce.
After the
show
we headed back into the casino to a bar, and after one round of sensible cocktails, we moved on to the flaming ones…