Until my recent fleeting visit to Singapore, I'd only ever tried bak ku teh once. It was in Melbourne, and I wasn't very impressed. Perhaps when it said 'herbal soup' I didn't quite expect it to be those Chinese herbs which my mother used to force me to drink when I was sick as a child. In case you're wondering, I still take Chinese medicines when I'm sick, but thankfully the medicines my sister prescribes are mostly in pill or powder form now. Ah, generational change.
So after a night of drinking with my cousin in Singapore, I was a little hesitant when he and his friends were all excited about going out for bak ku teh at their local, the way we'd grab a souvlaki here in Australia on the way home. I mean, I was in Singapore, where's the char kway teow? Surely that's the greasy drunk's food of choice? My cousin explained that this particular bak ku teh place didn't do the traditional, medicinal style bak ku teh, but rather a more straight pork soup, dosed with loads of white pepper. So I went with it, even though my body was craving the oily goodness only char kway teow could assuage. When in Singapore, right?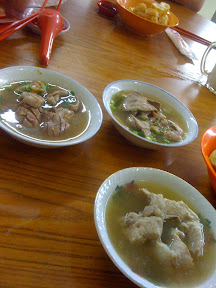 The
bak ku teh
came out in little bowls, with the classic pork rib, as well as a few other offal-type bowls which I was most complicit in ordering. From left to right: pork rib; pork kidney; pork liver.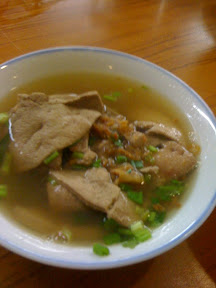 There was also some marinated dried tofu skin, and some salty cabbage dish which was not so great.
To accompany these dishes, you could either have the traditional steamed rice, or some rice vermicelli. Being a
bak ku teh
novice, I stuck to the rice.
While I would still probably have preferred a
char kway teow
, I have to admit the
bak ku teh
thing is quite satisfying after a night on the booze. In a similar way to the hangover food of the gods,
pho
, it simultaneously replenishes mineral salts and rehydrates. Yeah, that's what I tell myself. Let it go. The other great thing about the
bak ku teh
experience is the fact you sit down as a group of drunks and share a communal meal together. And when it comes down to it, drinking's all about bonding, right?