Various locations around Hong Kong
Website (Chinese)
There was one place my friends introduced me to last time I was in Hong Kong. I knew it as 'the mango on mango on mango place'. We went to the Mong Kok outlet before karaoke, and I thought it was a one off. Little did I know that is was one branch of a pervasive 'Healthy Dessert' chain which can be found, often unexpectedly as you're walking around, in most of the busy shopping districts of Hong Kong. Welcome to the land of Hui Lau Shan.
Now I'm fairly sure Hui Lau Shan is some reference to a place (shan meaning mountain, you barbarians) where they conjure up all sorts of magical healthy desserts. Desserts involving – you guessed it – mango.
In the week that team #fatty was traipsing around Hong Kong in search of wondrous eats, Hui Lau Shan was hands down the most frequently visited place. Most places only warranted one visit. Sam Tor Noodles (coincidentally as the name suggests – it means 'three more', you barbarians) demanded three visits. But I went to Hui Lau Shan no less than five times in seven days. And that was barely enough. What's so good about this place? Mango. Oh, and sugar.
The first time I went, it was just a takeaway mango puree/slushie with tapioca. Gotta keep up the blood sugar levels when you're shopping, see?
Later that evening, I introduced @eatnik to the joy of Hui Lau Shan. @alexlobov had been before, being a Hong Kong resident, and for some inexplicable reason, wasn't that impressed. I say inexplicable, because the man has consistently good taste. Apparently not so much in the realm of 'healthy' desserts. Anyway, on this visit, I had the sago in mango puree, with mango pieces, pomelo and coconut milk.

An awesome balance of fresh, slightly tart mango and pomelo, with a rich sweetness from the coconut milk (and also no doubt a hefty slug of sugar syrup).
@eatnik had the black rice pudding with mango and coconut milk. This dish is a total winner, as the black rice isn't too sweet, and gives the dessert the accent of young rice flavours, while the – as we have established – winning combination of mango and coconut does its magic.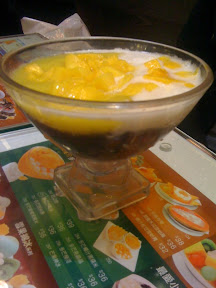 @alexlobov had the taro flavoured Hokkaido milk pudding, after being told some other pudding he wanted, involving an oozing peach centre, was unavailable.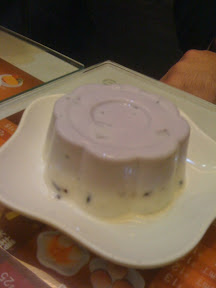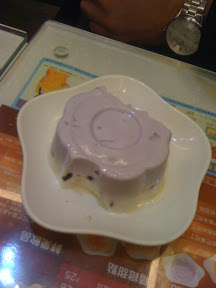 The pudding was studded with red beans, and was probably a bit too solid. They skimp neither on the sugar, nor the gelatin, it seems.
I went back three more times, introducing the @eatdrinkstagger kids to the wonders of the mystical dessert mountain, and sampling my way through more of the menu, though I neglected to take more photos. I can highly recommend the coconut noodles with mango and fruit salad, however.
In my uni days, I was for a short time obsessed with a movie called The Holy Mountain. It was a crazy psychedelic movie about transcendence and hallucinations. It involved plaster crucifixes and women holding chimpanzees, if that gives you any indication. Anyway, I think I found my Holy Mountain. Its name is Hui Lau Shan.