After the disappointment that was wonton noodle soup at Ho Hung Kee, team #fatty spent the next few hours fighting off our food fatigue by partaking in the other great Hong Kong pastime: shopping. Working our way along the island from Causeway Bay to Central, we quite amazingly resisted eating anything for a good five hours, with the exception of a couple of egg tarts. @eatnik has something of a calorie-laden fascination with them, so I got a haircut while she hunted around the Wanch (Wan Chai) for two egg tarts of note.
Several shopping bags and credit card transactions later, we found ourselves very close to the two places touted to have Hong Kong's best wonton noodle soup. Time for some wonton redemption. Far from being much of a secret, I think both are listed in the Lonely Planet. At least Tsim Chai Kee is, because although I had forgotten its name, I had already tried the wontons here a few years ago.

They're big, plump, and contain nice big chunks of prawn meat. The noodles are good, too, but the standard of egg noodles in Hong Kong is almost universally high. If not stellar, than at least better than the best in Melbourne. As we sat and replenished out bodies with the salts we'd lost in our day of vigorous shopping, an ex-pat at the table next to us quite mechanically polished off two bowls, one after the other.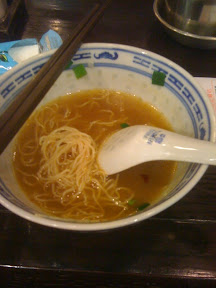 My mother would have wept, because here again, I did not finish all of my noodles. Because by the time we sat down and ordered, we had resolved that we were heading to Mak's, across the street.
The contrast between the two places is quite remarkable. Tsim Chai Kee has a somewhat Japanese feel to the decor, with rectangular black lacquered furniture and ambient lighting. There's something elegant and classic about the place. Mak's, on the other hand, is oldskool in a different way. Plastic stools, chrome everywhere, and a vibe which probably looked modern in the 80s, but now just exudes 'classic Hong Kong diner'.
@eatnik also noted that Tsim Chai Kee seemed to be exclusively staffed by little middle-aged ladies, while Mak's was run by a troupe of little middle-aged men. Could the battle lines for wonton supremacy be so clearly drawn along lines of gender? Curious.
So we ordered wonton noodles at Mak's. Or rather, I ordered wonton noodles, and @eatnik ordered wonton soup. She was admitting carb defeat, it seemed.

These wontons were something of a disappointment, after Tsim Chai Kee's sizeable pillows of prawn. They were quite a bit smaller, and while the flavour was good, they weren't much better than those at
Ho Hung Kee
we'd had that morning. Again, I started to wonder if we should be searching for Hong Kong's best
sui gao
noodles, and not the best wonton noodles. Again, I couldn't finish the noodles.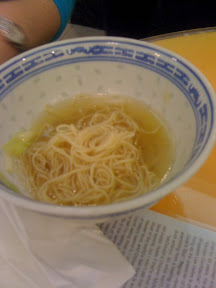 So which was better? It's pretty clear, isn't it? Tsim Chai Kee, for this little fatty, romped it in. However, interestingly, neither of these places came close to meeting the levels set by the sublime wontons of
Sam Tor
, a place strangely more for its chilli oil than its wontons.
Tsim Chai Kee 沾仔记
98, Wellington St, Central, Hong Kong
Mak's Noodles 麥奀雲吞麵世家
77 Wellington St, Central, Hong Kong.