Kimberly Hotel, 28 Kimberly Road, Tsim Sha Tsui, Hong Kong
Phone: +852 2369 8212
When @eatnik first mentioned the Kimberley Restaurant, I thought she must have been a little mistaken. A hotel restaurant? Without a celebrity executive chef? Why would we waste our time? Hotel restaurants tend, for the most part, to be something like a sheltered workshop. The hotel rarely needs the restaurant to be wildly successful or profitable, it just needs it to gain its three-plus star status, and to have somewhere to serve a decent breakfast buffet. This is a pretty harsh, sweeping generalisation I know, but a lot of the hotel restaurants around the world will bear witness to its validity.
Ten seconds into our conversation, @eatnik mentioned suckling pig. Nay, glutinous rice stuffed suckling pig. My interest was piqued. Then she showed me this video. Oh, it was game on, and there was no way we were going to miss out on trying this on our #fatty adventure.
Thanks to the wonders of modern technology and social media, we'd managed to make a friend in @e_ting, another food blogger who from Australia who had moved to Hong Kong a while ago. She graciously organised a table for twelve, a motley crew, peppered with unexpected social connections. Still, the important thing here was actually the size of the group, as a table of twelve warrants a true Cantonese banquet.
As much as yum cha is probably Cantonese culture's best known gift to the culinary world, for me, the traditional banquet that unfolds when large groups of Cantonese people get together is the epitome of Cantonese food to me. It starts out with one, two, or sometimes three entree courses. Sometimes it's oysters or baby abalone, sometimes it's quail, or as with our dinner at the Kimberley, it often starts out with an assortment of cold roasted meats.
With the full knowledge of the piggy pigging that was to come, thankfully we opted for just the single entree course. The char siu was pretty standard, and the fried tofu was a little out-of-the-ordinary – and nicely smooth – but the real surpsrise here was the little pieces of pig's trotter (I think?) which were pretty much just braised pork skin with a sliver of fat, meat and cartilage.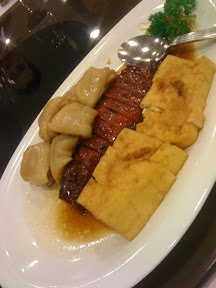 At this point of the Cantonese banquet, the seafood course would come next. Often crab, or lobster, hopefully on a bed of egg noodles. But I digress. Because we were having the suckling pig,we opted for less extraneous courses, so the parade of main dishes started arriving at the table.
Garlic prawns with broccoli. This was pretty boring I thought, though cooked reasonably well. It was a filler dish, not a killer dish..

We had a vegetarian in our midst, so stir-fried bean curd with mushrooms was in order. I actually really enjoy Cantonese vegetable dishes, because they're often a respite from the umami overload of other dishes. However, this wasn't quite the usual oasis of chlorophyll in a desert of salt and MSG.
This, however, was! Snow pea shoots lightly braised in a light stock. I think I've talked about my love of this vegetable before, but it's another one of those dishes which epitomises Cantonese cuisine to me. I love how it's just so simple, and you can really taste the unique flavour of the vegetable.
The next dish to arrive was a huge pot of braised beef with lemongrass. A mixture of brisket and tendons – and other generally cheap cuts – all braised to the point where the meat was falling apart, and the collagen had melted into the sauce, making it stick to your lips like a good tonkotsu broth or a runny yolk. The chunks of vegetable in there were daikon (the big white carrot at the market) but I mistakenly identified it at first as winter melon. It was that sweet.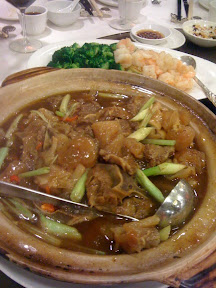 Another, smaller claypot came next. It was on the specials list, and despite us about to hoe into a suckling pig, we couldn't resist ordering the braised pork belly. Pork fiends much? This was braised with fermented tofu, which gives it quite a strong, salty flavour, not unlike miso, but think even more pungent. Pungent and delicious, I mean!
I made a request to have a whole steamed fish, because for me it's one of the things that the Cantonese do better than anyone else in the world. So simple, but so perfect. The irony of the situation is that I really have no idea what fish is what in English, because I only ever really had fish like this with my family growing up. So I know the Chinese names – which usually are just a descriptor of the type of pattern on the fish's skin, or something to do with the size of its mouth, but I have no idea when I see a menu in English which fish I should be ordering. Thankfully, others at the table are more fluent in the ways of food translation, and I'm told this was a garoupa. The flesh was perfectly cooked, flaking at the touch, and still silky and sweet. You could taste the quality of the fish.
Finally, to the main event: the suckling pig, or Kimmy, as she was dubbed. She was wheeled out on a little trolley, in the same way that a Peking duck would often be, and we all marvelled at the sheen on her skin, and her cute little tail. She'd been pretty much de-boned and stuffed – she still had legs, but there was no rib cage or spine to navigate, and her torso had become a porky blanket to wrap around a sausage of tasty glutinous rice.

At this point, due to my inability/unwillingness to take sufficiently pornographic photos of Kimmy, I refer you to
@e_ting's post
about this dinner. And re-watch the video from the top of this post. Mmm, crackling.
The crackling was crisp and crunchy, with the lightness that only the thin skin and baby fat that an infant pig's hide can produce. Thank you Kimmy, for being such a wonderful specimen of deliciousness. The rice inside was also well seasoned, but let's be honest, it was most definitely – figuratively and literally – a filler.

So yeah, you know what? Hotel restaurants… not always a bad thing!