167 Exhibition Street, Melbourne CBD
Phone: 9650 9877
Ever since @alexlobov told me about this place last year, I had been curious to try it. Sushi in the shape of a burger? What's not to like!? It's a marriage of Japanese flavours with Western form and function. It's a type of fusion that instantly works, unlike some forms of culinary fusion, where different flavours are mashed together in a strained combination that is intriguing, not not always successful.
I met up with Mr D for dinner, and as is our trademark routine – mostly caused by my indecision, and enabled by his easy-going passivity – we wandered around the city looking for somewhere to eat. When he suggested J Cafe, which he referred to as 'that sushi burger place', and which I think should be named Sushi Burger anyway, I agreed. I'm so glad he knows me well enough to have a backup plan in mind.
J Cafe is one of those cute little Japanese places, where the tables are closely packed, there's a lot of warm blonde wooden furniture, and exceedingly polite Japanese waitresses repeat your order back to you while nodding and adding a questioning 'yes?' after reading each item, seeking your confirmation. It's all very charming, I think.
We both decided to go for the Sushi Burger Box, which comprised of a sushi burger, another dish, and miso soup. For $17, it's not bad, but there are definitely places nearby where you can get more bang for your buck.
The burgers come wrapped up in paper, a cute touch. This place is all about the kawaii factor, it seems.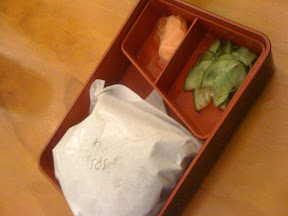 I ordered the spicy raw salmon burger. It's kind of like a round onigiri, with a nori taco wrapped around it. When it comes down to it, it tastes like a fresh hand roll, only the nori is still a bit crispy, which I like.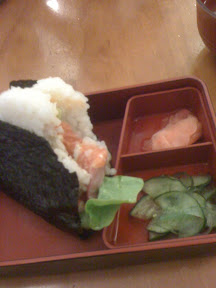 Mr D had the teriyaki salmon burger, which he was very happy with. I can always tell when Mr D likes what he's eating, because he eats it rather rapidly, and makes something of a mess.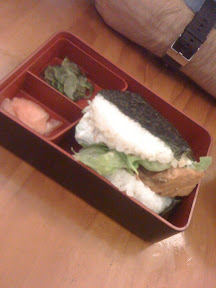 One little thing that irked me about the sushi burger meal was the fact the second dish was served after the burger, as though the burger was the entree. When the second dish arrived, without any rice accompaniment, it felt a little strange. Especially since I ordered the
Tatsuta Age
– yep, the fried chicken. I love fried chicken, but it needs a carb-based accompaniment (for full obesity-inducing impact).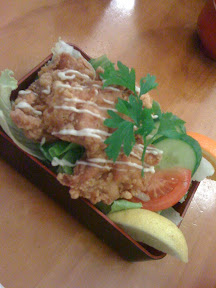 This chicken was tasty and juicy, and the mayo drizzled across the top certainly didn't harm its performance in the deliciousness stakes. I just wish it had come at the same time as the sushi burger.
Mr D had the Kani Croquette (fried mashed potato croquettes with crab meat). Again with the speedy eating and the bit of a mess. To be honest, I think he was much more excited about the croquettes than the sushi burger.

J Cafe also serves up your standard Japanese bento dishes and sushi, but I think when I go back next time, I'm definitely having another sushi burger.