五代同堂, 25-31 Carnarvon Rd., Tsim Sha Tsui, Hong Kong
Ph: +852 2723 3383
Five Generations' egg pudding was the winner of CNN.go's 'Hong Kong's best dessert' last year. This pretty much made it a must-try on our #fatty list.
The first time we tried to go, it took us a while to find the place. It's around the corner from where you might think it would be, though it's not really hidden at all, there's just no English signage. If you're heading there late night (it's open until 1 or 2 am most nights) just look for a crowd of young HKers milling around, waiting for a table. Partly because it's tiny, and partly because it has a well-deserved reputation for being that good.
Our second attempt, we went along with the @eatdrinkstagger kids, and discovered that Five Generations has a ticket system like Tim Ho Wan,so we grabbed a ticket, and wandered over to the food-on-a-stick stall across the road. I highly recommend the cuttlefish balls and duck giblets there. Mmmm, stick food….
Anyway, it was a total boon having four of us there, because it meant we could order and sample more desserts! First up was the sago pudding with fresh fruit.

Not all that much to look at, and more of a sweet chilled soup than a pudding, but I quite liked this. It's a simple dessert, all about coconut milk and sugar.
The next item to arrive at the table was a guava snow storm, or something to that effect. It was a mountain of a peculiarly textured shaved ice. They had a big special machine which did the shaving, and though I haven't seen it here in Australia, there were places selling the same thing in Malaysia.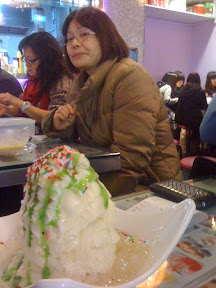 The guava flavour was strong and refreshing, though I could have done without the hundreds and thousands on top. I guess they wanted to create that carnival shaved ice show cone feel? And no, that woman in the background isn't that dubious about the dessert, she was looking dubiously at us all because we were taking about ten shots of each dessert that arrived at the table. Bloody food bloggers.
I was a tad dubious about the next dessert. Though I shouldn't have been, because you can't really fault a banana fritter. Unless the banana is under-ripe.

And this was not. Moreover, it was not only battered and fried, but then dusted with caster sugar and cinnamon! Banana fritter donut! All sorts of genius WIN. Served with a pretty non-descript chocolate syrup, and some decent green tea ice cream, I'd definitely have this one over again.
But then we got to the main event. The egg pudding. Since there were four of us, we clearly weren't going to be able to share one, or even two, between us. So we did what any self-respecting sugarphiles would do: we ordered the six pack.

Yup, when you order the six pack, they come in actual egg shells, instead of the cute glass egg cup. I think the egg shells provide just as much whimsy, but each serving is just the little bit smaller than the individual serve.
The egg pudding is smooth and creamy, yet rich and egg-y. I think Gem described it as an 'egg pannacotta', which is pretty apt. Trust me folks, it lives up to the hype, and even if there's only two of you, consider getting the six pack.
We rounded out our tasting banquet with a ginger souffle. It was pretty impressive when it arrived at the table. But with our incessant photographing, it was looking a little deflated by the time we actually dug into it.

While I liked he ginger flavour, it confirmed for me that souffles, while a technical marvel, aren't really my cup of tea. The texture was a tad rubbery, though it was still pretty light. I'd just prefer a cake or pudding, I think.
So if you're in Hong Kong, and eating at a restaurant in Tsim Sha Tsui, skip the dessert, and head on over to Five Generations. You won't regret it.