65 Koornang Road, Carnegie
Phone: 9571 7334
Second dates are an interesting proposition. The awkwardness of the first date is gone, and conversation feels like just that, a conversation, rather than a job interview. Things are more casual, and I feel, enjoyable. Second restaurants, I imagine, would be a similar proposition.
When @msihua suggest I have my second date at Siam 1, I did a little research. It's the younger sibling restaurant of Little Thai Princess, which seemed a little formal for me, as far as suburban Thai restaurants go. Still, Little Thai Princess' menu looked good, and with many items also included in Siam 1's menu, as well as @msihua's assurance that the ambiance of Siam 1 was appropriate for a second date, I made a booking.
She was right. Flattering (read dim) lighting, and a warm, intimate atmosphere was pretty spot on for date setting. However, the constant staring of the waiter named 'Trainee' (well, that's what his name badge said) at my date, to the point of making my date uneasy; and the proximity of the couple next to us having a mild domestic, these things were not so great. Still, I digress. This is a food blog, yes?
We started off with the son-in-law eggs. I recounted both versions of the story behind the name of this dish, and my date preferred the more, um, bawdy version. You can see why a second date was on the cards, right? Anyway, a son-in-law egg is one which has been boiled, then deep fried.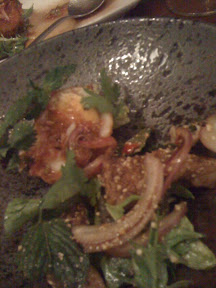 The eggs were nicely cooked, and the tamarind sauce had a nice balance of sweet and sour. I liked the copious forest of herbs which covered the dish, as the herbs brought a freshness to the dish which can sometimes be a little heavy, with the sugary sauce and the dense yolk. I've seen these in Thailand with a runny yolk, but haven't tried them that way. I imagine it would be a different experience, though something tells me not necessarily better. I do like a hard boiled egg, though.
Next, we had the 'Crying Tiger beef salad'. The rare beef was a little on the medium side for me, but the marriage of the toasted rice, fiery chilli and tart fish sauce dressing worked perfectly.

We also had a fish salad (it was barramundi, I think?) which was quite similar in ingredients – with a meat substitution, of course! – but without as much heat from the chilli, and a slightly sweeter dressing. Again, nicely done.
We rounded out the meal with a red duck curry, which was good, but probably a little too mild, and a little too sweet, for my taste. I did like the fact there were lots of vegetables along with the sizeable chunks of duck.
Overall, I had a great night at Siam 1. Part of this was definitely to do with the company, but the food also played a large part. I'd definitely go back again, even if the prices are a little on the high side.